Meet Dr. Louderback
G. Scott Louderback D.D.S.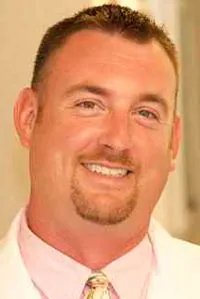 Dr. Louderback is a native of Anderson, Indiana and graduated from Indiana University with a Bachelor of Science degree in Biology, with a minor in Psychology, in 1994. He received his Associate of Science degree in Dental Hygiene from the Indiana University School of Dentistry in 1998.
Shortly thereafter, Dr. Louderback began working for Block Drug Corporation as a dental sales representative and moved to Toledo. He also worked for Wyeth Pharmaceuticals, and OraPharma, a Johnson and Johnson company, as a sales representative.
In 2004, Dr. Louderback returned to patient care working as a dental hygienist prior to returning to school, earning his Doctor of Dental Surgery degree in 2008 from The Ohio State University College of Dentistry. He served Holland, Ohio and the surrounding communities, providing quality dental care from 2008 to March of 2011.
Dr. Louderback is a member of the American Dental Association, the Ohio Dental Association, and is active in the Toledo Dental Society. He is also a member of the Academy of General Dentistry, as well as the American Dental Hygienists' Association, the Ohio Dental Hygienists' Association, and the Toledo Dental Hygienists' Association.
Some of the services he provides for his patients are:
Invisalign® A non-invasive "clear" alternative to traditional braces
Lumineers® Beautiful, minimally invasive, treatment to straighten and brighten your smile
In-Office Power Bleaching to get your teeth as white as they can possibly be
Anti-Snoring Appliances for a better nights sleep for you and your spouse
Complete, Beautiful, Life-Like Smile Makeovers to totally change your life
In his spare time, Dr. Louderback spends time with his daughter, Courtney. They enjoy going to the park, the library, playing games on the Wii, and playing with their cat, Esmerelda. Dr. Louderback also enjoys attending or watching on TV a variety of sporting events, reading, attending the theatre, listening to music, watching movies, running, and is an avid golfer and traveler.
Resources